Compassionate and candid support that can help you break down the walls within
Seema is great at what she does. I'm transitioning my business and offers and needed some help with clarity. I worked with Seema and walked away feeling great. She was very nice and you could tell she was genuine in her want to help me. I highly recommend her services. If you are looking for a coach, please check her out.
– Autumn Cheri, Pinterest & Blog Management
How I got started on this path
As an introvert when I started my very first business I worked really hard to find a way to market my services without spending time on social media or being the face of my business.
I was after all working by myself when building website. So why did marketing have to be where I behave like an extrovert?
I spent over 3 years trying all the recommended marketing strategies to book clients without trying to be an extrovert. Here's what I've found:
Cold emailing and messaging brings clients
Posting on social media platforms brings clients
Responding to facebook job opps brings clients
Being a guest on someone else's platform brings clients
I realized every single strategy works when you make it work for you!
I realized I was good at building out websites. But I was even better at strategizing simple yet effective marketing strategies for my clients.
So when the pandemic hit and the kids were home, I decided to give business caching a try. I immediately saw that my clients get so much better results than I expected. And I felt like I was born to do this!
Recent Shout Outs
Shavini, Empowerment Coach
Aisha, Video Editor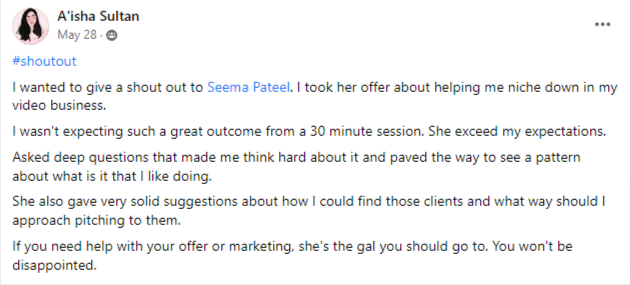 ---
Legy, Dubsado Specialist
My Philosophy
What can working with me bring for your business?
I don't have a rigid process or methodology that I want you to follow. My intention is to guide you to figure out yourself. Become so self-aware that you can implement a process that is unique to you. I do that by taking you through my CSC framework so that you can start booking clients consistently: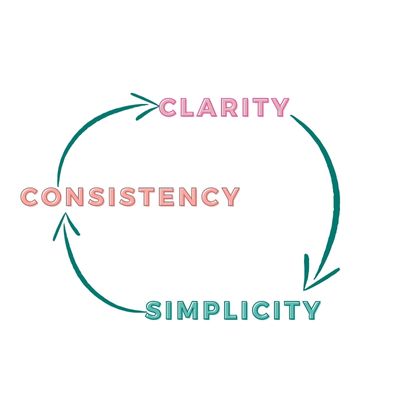 Want to see instant success that every other business coach is promoting? Here's their secret for you to implement:
-> Clarity in your offers.
-> Simplicity in your schedule.
-> Consistency in your marketing.
Let's explore.
Being clear on your offer means knowing where your clients are currently, what transformations they will have, and what kind of deliverables they will receive.
With a crystal clear offer, we can narrow down your target audience, hone in your messaging, create a lucrative lead magnet to grow your email list, map out your client journey and so much more.
I always onboard a new client with a 90-minute intensive so that we can get this clarity. It helps us set goals accordingly that we work towards during our 5 months together.
To work towards your goal we map out how you can achieve that goal with daily action steps. My wish for you is that your business remains a part of your life instead of taking over your life.
As a homeschooling mom myself I know that we have to work smart within the time pockets we have. Creating a schedule that takes into account my kid's school work and when I work best helps me stay sane and avoid burnout.
A clear offer will also help you craft content that gets closer and closer to exactly what your audience needs to hear and establish know-like-trust.
When you post content regularly, interact with your ideal clients, and serve them regularly it is going to make you massively visible on your preferred platform.
This is what consistent marketing looks like. This is what you see from the entrepreneurs you admire. And this is what starts to attract your ideal clients to you.
This is also what creates those $5k months and helps you pay for more support in your home and business.
If you are constantly wondering why no strategy is working for you then we must have a conversation.
Let's me help you gain clarity, simplicity and consistency in your business and life!
Fun Facts About Me
I asked my husband to share some fun things about me and it took him 2 days to give me an answer. But here are some things I find to be fun!
Personality
Generator
INTJ
Enneagram 8
Favorite Foods
Indian
Pizza with pineapples on it
Tacos
Music
Bollywood in the 2000s
Favorite Drink
Caramel Macchiato
Places to Visit
Greece
Italy
France
Happiest
Watching a movie snuggled in with my kids and hubby